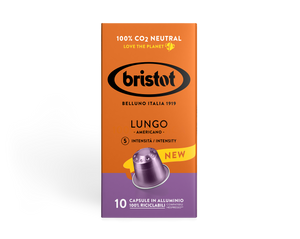 Lungo - 10 Capsules
Washed Central American and Brazilian Arabica come together with a little Robusta to create firm, full-bodied substance in the cup. Notes of fresh tobacco and tropical spices shine through amid the velvety acidity.
NOTES: Cocoa, Barley.
QUANTITY: 10 Nespresso®* compatible aluminium capsules - 100% recyclable.
Intensity: 5/10
USE: For home Nespresso®* machine.
* The brand is not the property of Procaffé S.p.A. nor of any related companies.
Now available on subscription - Just choose how much and how often you want it delivered. Cancel at any time.