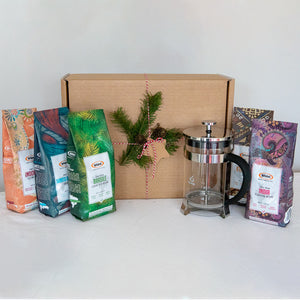 Single Origin Whole Bean Gift Box
A thoughtfully curated selection of our finest single origin whole bean coffees, selected from across the world's leading coffee growing regions. Beautifully presented in one of our gift boxes. Includes a complimentary cafetiere and free UK standard delivery. 
Gift box includes:
Brasile Coffee Beans  - 225g
Ethiopia Coffee Beans - 225g
Indonesia Coffee Beans - 225g
Santo Domingo Coffee Beans - 225g
India Coffee Beans - 225g
Complimentary Cafetiere - 800ml
To include a personal message with your Gift Box, please enter your message at checkout.